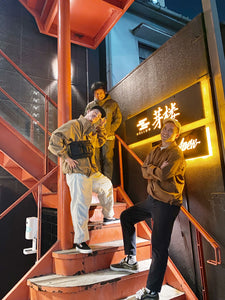 Over the years, there's been a number of Aloha Got Soul events in Japan, the majority being held in Tokyo thanks to the help of our friends at Kakubarhythm. When we started thinking about what 2023 would look like for AGS in Japan, we reached out to Rush Production for assistance. The brothers behind Rush -- Yasushi and Fumi -- have for many years worked with Tommy Guerrero (we're big fans!), and after an introduction to Rush in early 2020 (pre-COVID) thanks to our friend Hashim Bharoocha, we felt we could count on Rush to create something special on behalf of Aloha Got Soul. So we...
---
• Events
Brother Noland and Aloha Got Soul are teaming up to celebrate the 40th anniversary of "Coconut Girl", Hawaii's first Jamaican crossover hit, with an evening of live music and community gathering at Ka Waiwai in Mō'ili'ili on Saturday, September 30th, 2023. RSVP now on Eventbrite → "Coconut Girl", which introduced reggae music throughout the Hawaiian Islands upon its debut in 1983, has continued to speak to Hawai'i's people with an ever-evolving message that resonates with each generation. Even 40 years later, Brother Noland regards his first big hit as a way to move people. "As the song started to evolve, people...
---
• Events
Kalapana Pop-up this Friday and Saturday, January 27 & 28 from 10am-6pm at Kaiao Space (@kaiao_space), 1018 Smith Street. Free and open to the public.The Pop-up celebrates the music and legacy of Kalapana with rare memorabilia, rarely seen photos, vintage merchandise, concert posters, archival video footage, original instruments and more from across the band's career.Aloha Got Soul will be releasing a limited edition vinyl record box set of Kalapana singles, accompanied by collaborative Kalapana merchandise with Sig Zane Designs, APB Skateshop, and Toyota Hawai'I. Asato Family will be on site on Friday, too!EVENT SCHEDULE:Friday, Jan 27th10am - 9pm Kalapana Pop-up6pm - 8pm...
---
• Events
Help us close out the year with our first annual AGS Xmas Party this Sunday, 5-8pm. We're excited to bring the holiday spirit to our monthly gathering, Sundays at the Shop (every third Sunday at AGS Honolulu). This month, we have our dear friends Miss Lulu and Shy Shonnie spinning vinyl tunes. We'll have complimentary beers and seltzers from Kona Brewing. And we'll be raffling off prizes all evening long. Plus: 10% off everything in-store during party hours (5-8pm).Sunday, December 18th5pm ~ 8pmAGS Honolulu2017 S. King Street, Honolulufree entryP.S. Come dressed in the holiday spirit and you might be rewarded...
---
• Events
Mahalo mahalo mahalo for a marvelous Sunday afternoon with Kalapana friends, fans, and family! Especially Sebastian Feary (Mackey's son) and the extended Feary 'ohana, who arrived in full force to fill our little shop with lots of love. Auntie Dancetta Feary (Mackey's older sister) and uncle Donnie Martin (Mackey's best friend) shared some many incredible stories and memorabilia of Mackey and Kalapana — Donnie endlessly blowing our minds with piece after piece of history, including one his most prized items: Mackey's drivers license, which he carries with him at all times ("that's my boy!"). And an extra special mahalo to the musicians...