• Events • Mixes • Soul Time in Hawaii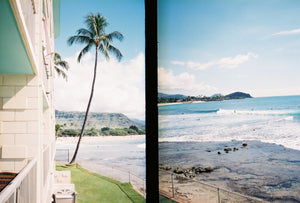 Listen to an excerpt of our live DJ set with Roger Bong, Hideki Yamamoto, and appearance by Maryanne Ito. From Soul Time in Tokyo 2019.
---
Last year's anniversary parties in Hawaii and Tokyo were so much fun that at the end of each party we felt elated to be doing these parties. This spring should prove to be no different with Soul Time in Hawaii turning five in March — moving to a rooftop venue to boot: the Hideout at the Laylow in Waikiki — followed by Soul Time returning to Tokyo in May. Both parties will be a blast! Soul Time in Hawaii — March 1, 2019Hideout at the Laylow (Waikiki) Soul Time in Hawaii — May 24, 2019Tokyo Cultuart by Beams (Harajuku)a-bridge (Sangenjaya)...
---
• Events • Soul Time in Hawaii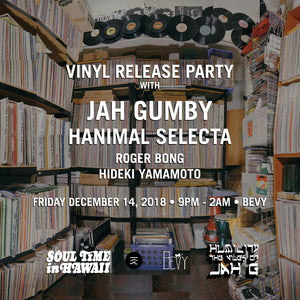 On Friday, December 14, 2018, we invite you to join us in celebrating the vinyl release of Jah Gumby's Humility: The Vibes of Jah G — the artists's first vinyl release, a double LP of 16 progressive dub reggae tracks. Jah Gumby Vinyl Release PartyFriday, December 14thBevy – 675 Auahi Street9pm - 2amfree Vinyl will be available for sale at the event Humility: The Vibes of Jah G by Jah Gumby Hosted by Soul Time in Hawaii, this release party will feature DJs: Jah Gumby (Father Psalms Studio)Hanimal Selecta (Heavy Vibez)and Soul Time in Hawaii residents Roger Bong & Hideki...
---
• Events • Recap • Soul Time in Hawaii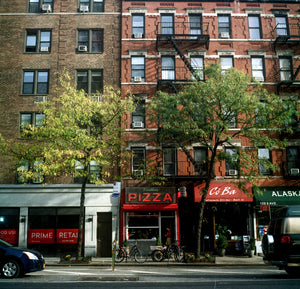 The last time I went to New York was roughly 2005, it was for a family vacation with my grandparents and older brother. We stayed in Manhattan, saw a show on Broadway, drank some Manhattans in the hotel lobby bar. We spent all of our time together, with the exception of one afternoon when my family wanted to see David Letterman live, so I decided to go check out FatBeats. I was actively collecting records and making my own beats back then. This was a time before smartphones were everywhere. Asking the front desk for directions to the FatBeats store...
---
• Events • Soul Time in Hawaii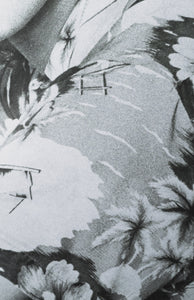 When the opportunity arose to work with The Surfjack, we realized we could bring Soul Time to the one place on Oahu that's been needing it for some time. That's why we're launching Soul Time In Waikiki.