• Events • Soul Time in Hawaii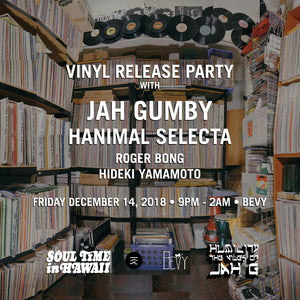 On Friday, December 14, 2018, we invite you to join us in celebrating the vinyl release of Jah Gumby's Humility: The Vibes of Jah G — the artists's first vinyl release, a double LP of 16 progressive dub reggae tracks. Jah Gumby Vinyl Release PartyFriday, December 14thBevy – 675 Auahi Street9pm - 2amfree Vinyl will be available for sale at the event Humility: The Vibes of Jah G by Jah Gumby Hosted by Soul Time in Hawaii, this release party will feature DJs: Jah Gumby (Father Psalms Studio)Hanimal Selecta (Heavy Vibez)and Soul Time in Hawaii residents Roger Bong & Hideki...
---
• Events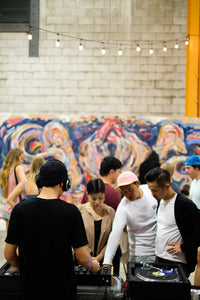 We set up our turntables and mixer inside the barn-like space at SALT, the mixed-use development recently built in Kaka'ako, across from some wooden panels that would act as a canvas for artists Solomon Enos and Nicole Naone. This was just a small slice of the annual Pow! Wow! Hawai'i, which kicks off every year with a massive block party coinciding with Honolulu Night Market. We didn't have much of a chance to walk around that evening, but I know there were plenty of food stalls, clothing merchants, jewelry stands, a beer garden or two, DJs rocking the crowds, and...
---
• Events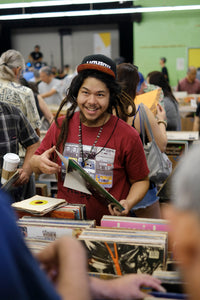 Each year, FLH opens their vault of used vinyl to the public for their annual Music & Book Sale. This year, we're helping them host an after-the-sale Vinyl Listening Party on Saturday, Jan. 13th from 5 p.m. – 8 p.m.
---
• Events • Recap • Soul Time in Hawaii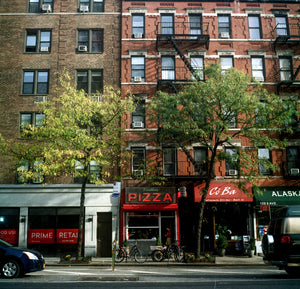 The last time I went to New York was roughly 2005, it was for a family vacation with my grandparents and older brother. We stayed in Manhattan, saw a show on Broadway, drank some Manhattans in the hotel lobby bar. We spent all of our time together, with the exception of one afternoon when my family wanted to see David Letterman live, so I decided to go check out FatBeats. I was actively collecting records and making my own beats back then. This was a time before smartphones were everywhere. Asking the front desk for directions to the FatBeats store...
---
• Events
In its purest state, Momi's music is more angelic than anything ever heard from these islands, a gorgeous literary and musical experience that elevates the spirit. More people need to hear her music, just like this — sitting in a room with Momi's stories and music, everyone sharing in the perpetuation of positivity. Pure, inspiring, Aloha. This is Momi.