• Hawaiian Breaks • Merch
For as long as I've known, Japan has had the propensity for "Japan-only" releases. This is true for both physical music releases, and merchandise. I'm not entirely sure why this is, but I've learned to accept it (and be comfortable with asking friends in Japan to pick me up a copy of something, although I really try not to do this very often).  Order a limited tee or hoodie here: https://everpress.com/hawaiian-breaks-2020 DJ Muro's Hawaiian Breaks 2020 — the latest mix is his series focusing on music from Hawaii — is, for now at least, only available in Japan. In this case, I can...
---
• Hawaiian Breaks • Mixes
If you've been following AGS since day one — or if you've managed to dig through our blog post archives all the way back to the very first post ever made here — you'd know that DJ Muro's Hawaiian Breaks mix from 2009 inspired me to start AGS in the first place!  Ten years later, I can't hardly believe I'm writing this, but DJ Muro is releasing a new mix in the Hawaiian Breaks series this week, and it's all about Aloha Got Soul and the music our little label has been releasing since 2015. It's been a trip to see this passion project/blog-turned label...
---
• Hawaiian Breaks • Track
Updated Sept. 6, 2011 While my focus for Aloha Got Soul as a Hawaiian music blog is 1970s and 1980s Hawaiian funk, soul, and jazz music, I'm wide open to anything outside that (very narrow) spectrum. And I'm always excited to make a new discovery about the DJ Muro Hawaiian Breaks mix. That's why the following came as such a welcome surprise. That oh-so-mysterious cover of Ramsey Lewis' "Sun Goddess" has finally been unveiled. And with with less than 50 views on YouTube, the news has yet to sweep DJ Muro's Hawaiian-loving fanbase. The band's name is Legacy. And their...
---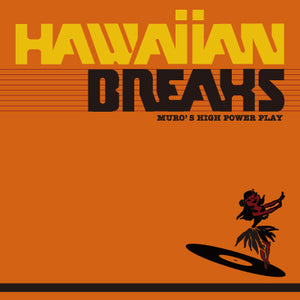 Aloha Got Soul was founded from two big musical motiviations: Mackey Feary Band's debut LP, and DJ Muro's "Hawaiian Breaks" mix. Back in August 2010, no tracklist for Hawaiian Breaks could be found on the internet. None. Coincidentally, the guys over at SoulStrut wondered about the song titles the same time I started compiling the track list. Lo and behold, less than one year later and the DJ Muro Hawaiian Breaks song list---originally posted on Aloha Got Soul---has made its way around the internet. Discogs.com picked it up (and even linked back here!), and justfunked.com recently posted it to their...
---
DJ Muro's Hawaiian Breaks Tracklist now complete! (I just need to add the little details, like release year, catalog number, record label) ALOHA GOT SOUL is dedicated to the funky, soulful, jazzy sounds of Hawaii, so it's only appropriate that I start with DJ Muro's 1hr+ mix, "Hawaiian Breaks." Released in late 2009, the mp3 is available all over the internet by now. It's got tons of great disco/funk tracks from the islands... But there's no tracklist! So I'm sitting here, scratching my head, trying to figure out who sang what... I've searched over and over and haven't found a...