"Just like the song — mutli-dimensional, multi-generational — so are the stories." Brother Noland reflects on Coconut Girl, its concept and creation, 40 years after its debut in 1983. Join us on Saturday, September 30th, 2023 at @waiwaicollective 5pm-9pm to celebrate 40 Years of Coconut Girl. Live music by Brother Noland and friends, and much more Watch now on YouTube: Filmed and edited by Roger Bong.
---
• Events
Brother Noland and Aloha Got Soul are teaming up to celebrate the 40th anniversary of "Coconut Girl", Hawaii's first Jamaican crossover hit, with an evening of live music and community gathering at Ka Waiwai in Mō'ili'ili on Saturday, September 30th, 2023. RSVP now on Eventbrite → "Coconut Girl", which introduced reggae music throughout the Hawaiian Islands upon its debut in 1983, has continued to speak to Hawai'i's people with an ever-evolving message that resonates with each generation. Even 40 years later, Brother Noland regards his first big hit as a way to move people. "As the song started to evolve, people...
---
• Video
Label founder Roger Bong recently hopped on the decks at London's My Analog Journal to share a 45-minute selection of soulful, groovy music from the Hawaiian Islands. The popular YouTube channel showcases the talents of its creator, Zag Erlat, and a global network of vinyl selectors and DJs. Fun fact: Zag's most-watched video to date, Japanese Funk and Soul on Vinyl (late 70's, early 80's), includes a cut from an Aloha Got Soul release: Aiko's uptempo city pop disco tune "Time Machine". As a tribute to Zag and his channel. Roger closes his set with the A-side of Aiko's 7-inch, "Fly With Me". ...
---
• Interviews • Record Shops / Crate Digging • Reflections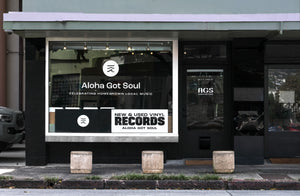 This is a cross-post from AGS Honolulu's website. Originally going to be used as an office space for the Aloha Got Soul record label, AGS Honolulu has grown to fill in the gaps of Hawaiʻi's music community. Born out of a desire to provide a space where music lovers could experience an elevated record shop with an emphasis on independent artists and labels, AGS Honolulu offers a welcoming environment that's also fully stocked with releases from Hawaiʻi artists past and present. Now open seven days a week (during the first 6 months of operation, we were only open 3-4 days a week), we've expanded into hosting regular  events in...
---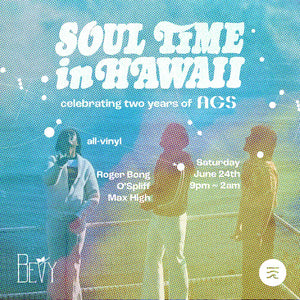 It's been too long since the last Soul Time in Hawaii party!  In celebration of AGS Honolulu's two year anniversary. We hop over to Honolulu's go-to for good music and cocktails to host our Soul Time party. The last time we held one was several years ago.  Aloha Got Soul's staff — Roger Bong, Oliver Seguin ("O'Spliff"), and Max High — pull out all-vinyl selections of house, Hawaiian, funk, disco, jazz, electronic music all night long at Bevy. It's the first time the trio has DJ'd a bar/venue gig together as one -- sure to be an exciting evening of solid tunes and nonstop dancing. ...