• Merch
Based on the feedback we've received — and to ensure no one misses out — we've decided to reprint all our Official Kalapana merch via pre- order! Starting today, we're taking pre-orders on alohagotsoul.com and ags.earth.  The pre-order window closes April 14th. We expect to finish production and start shipping orders in late May / early June 2022.  *We've decided not to reprint the tote bags or "4k" shirts and hoodies this time around. But, everything else is available! 
---
• Merch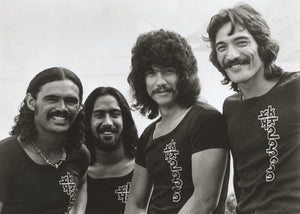 In 1970s Hawaii, band logos were the thing to have — Summer, Kalapana, Country Comfort, and Olomana were some of the islands' most popular groups whose marks were instantly identifiable. In flipping, clicking, and digging through images of Kalapana for our forthcoming official reissue of their seminal 1975 debut, we've regularly come across this Kalapana "4k" design. It's a timeless stamp that many in Hawaii recognize and love. It's a classic design that deserves to be carried on into our present and future. Aloha Got Soul has been granted permission from Kalapana Music to product official Kalapana merchandise. We'll be kicking things off with a reprint...
---
• Hawaiian Breaks • Merch
For as long as I've known, Japan has had the propensity for "Japan-only" releases. This is true for both physical music releases, and merchandise. I'm not entirely sure why this is, but I've learned to accept it (and be comfortable with asking friends in Japan to pick me up a copy of something, although I really try not to do this very often).  Order a limited tee or hoodie here: https://everpress.com/hawaiian-breaks-2020 DJ Muro's Hawaiian Breaks 2020 — the latest mix is his series focusing on music from Hawaii — is, for now at least, only available in Japan. In this case, I can...
---
• Merch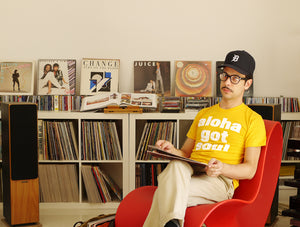 Aloha Got Soul fan and stylish tastemaker Tiberio Pedrini of Italy bought an AGS tee "because the yellow one reminds me of the cover of Roy Ayers' Everybody Loves The Sunshine." Buy your tee and support Aloha Got Soul.