• Events
In its purest state, Momi's music is more angelic than anything ever heard from these islands, a gorgeous literary and musical experience that elevates the spirit. More people need to hear her music, just like this — sitting in a room with Momi's stories and music, everyone sharing in the perpetuation of positivity. Pure, inspiring, Aloha. This is Momi.
---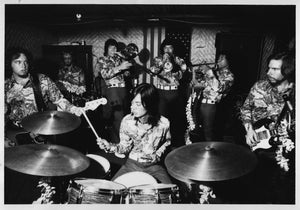 On August 5, 2017, Mike Lundy's band The Deltones will perform live for the first time in decades. Joining him are Phase 7, Aura, Greenwood, and Odyssey.
---
• Events
"Sounds of Hawaii" is a photo series documenting recording studios that once existed in the Kaka'ako, Ward, and Ala Moana areas. The project is part of Smithsonian's 'Ae Kai: A Culture Lab on Convergence.
---
Records stores, chance meetings, last minute errands, longtime friends, free beer, and the first train in the morning. A recap of Soul Time in Tokyo 2017.
---
• Events
March 2017 marks a pair of monumental events in Aloha Got Soul's seven-year history: DJ Muro comes to Hawaii, and Robert ÆOLUS Myers goes to Brooklyn to perform.