• Events
Here's a quick overview of what I took away from the 2011 Na Hoku Hanohano awards festival. Kalapana performing "Naturally" live as the recipients of a Lifetime Achievement Award (just magnificent!). Touch of Gold. A Hawaiian Philly Motown Soul-style vocal group with a touch of, well, gold. Resonating quotes from presenters and award-winners Photos, photos, photos Bob Dylan, Slack Key and ... Tender Leaf? Ernie Cruz Jr. live and direct via Na Hoku workshops These are some of the ideas floating around in my head after spending the past two days experience the Hokus and its new Mele Mei month...
---
• Events • Reflections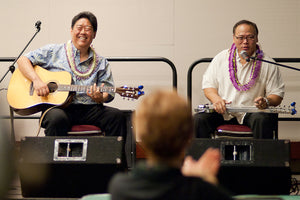 I'm always humbled whenever I engage with the Hawaiian music scene. It's a tight knit family of friends and relatives. People smile, hug, laugh. Everyone is warm and inviting. Everyone respects one another. It's a beautiful thing to be a part of.     No egos, no pride, just love and aloha. I was lucky enough to attend some of the 2011 Na Hoku Hanohano Festival Workshops. There were a lot of workshops held over a few days, featuring popular Hawaiian artists and mainland musicians. (Ernie Cruz Jr., Ray Parker Jr., Kimo Kahoano, Patrice Rushen to name just a few.)...
---
• Events
Honolulu's 70s Nightclub Reunion is having one last celebration before bowing gracefully off stage! Don't miss this show! It's the final reunion, and it's gonna be a blast! But get this: Phase VII and Aura will be performing that night! Never mind me being the youngest guy there—even if everyone will be twice my age*—this is my first and last chance to ever see these bands play live. (*Local baby boomers are lucky they lived through Hawaii's nightclub era! I really missed out. Thanks to Robin Kimura for being the mastermind behind these reunions!)     Grand Ballroom tickets are...
---
• Events
The Do-Over is coming to Honolulu in 2011! What's that? Hosted by Aloe Blacc & friends, the infamous LA-bred Do-Over parties feature world-class DJs throwing down seriously good tunes. To name a few appearances: Kon & Amir, J. Rocc, Osunlade, Prince Paul, Flying Lotus...and many more. Quantic, aka William Holland, even did a cumbia mash-up set... Which makes me wonder what'll happen when Lei-Over's mystery DJs spin that Hawaiian heat. Quantic at the Do-Over, September 2010: (mp3 & video) Here's the poster: Rockin' the sunny jams and the classic tunes you grew up with, plus any other madness that comes...
---
• Events
Google "Tony Tam Sing" and you'll come across the blog Asita Recordings. I did, at least. Didn't find any info on the elusive TONY psych-folk LP, but I did learn that Lightsleepers recently started one of Hawaii's only record sale/swaps. There's been a few other big record shows in Hawaii, but BRB is the only one giving "Hawaii's diggers, vinyl junkies and collectors" a chance to meet in one place. The first BRB went down in early 2010. The next BRB? Coming up real soon. September 11th, 2010 831 Queen St. @ Fresh Café 9am - 3pm :: FREE beatrootbodega@gmail.com...