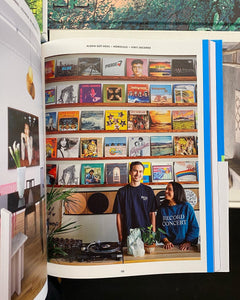 In early 2022 we were featured in issue 45 of Mailchimp's Courier magazine. The article, entitled "Aloha Got Soul: prioritizing vinyl in the streaming era", showcased photos from our shop and an interview with its creators, Roger Bong and Leimomi, who spent two intensive months from April 2021 building out what would become our first-ever brick-and-mortar space, aptly named AGS Honolulu.  The author, Tokyo-based journalist Kenji Hall, interviewed Roger and Leimomi about their beliefs and approach in creating a storefront:  "We sell new and used vinyl records, books and magazines, turntable accessories and lifestyle goods. We have an emphasis on local musicians,...
---
• Events
Help us close out the year with our first annual AGS Xmas Party this Sunday, 5-8pm. We're excited to bring the holiday spirit to our monthly gathering, Sundays at the Shop (every third Sunday at AGS Honolulu). This month, we have our dear friends Miss Lulu and Shy Shonnie spinning vinyl tunes. We'll have complimentary beers and seltzers from Kona Brewing. And we'll be raffling off prizes all evening long. Plus: 10% off everything in-store during party hours (5-8pm).Sunday, December 18th5pm ~ 8pmAGS Honolulu2017 S. King Street, Honolulufree entryP.S. Come dressed in the holiday spirit and you might be rewarded...
---
Mega deals at AGS this Black Friday, starting at 8am. Don't miss this chance to build your record collection with massive discounts on new and used vinyl plus Aloha Got Soul titles this Friday, November 25th. $20 GIFT CARDS*We're giving out a $20 gift card for every $100 you spend. While supplies last.NEW VINYLMassive markdowns on new vinyl. If you've been courting titles in our bins, now's your chance to bring them home. This is also a great way to take a chance on something new and unexpected.USED VINYLUsed vinyl marked up to 50% off — plus a huge amount of $1...
---
Aloha friends and fans! We'll be at the Made in Hawaii Festival this weekend from Friday through Sunday. Come find us at booth 505, located at the Ala Moana Center.  We're super excited to participate in our first ever Made in Hawaii Festival! We couldn't have done it without the help of Central Pacific Bank, who sponsored our booth this year. Big mahalo to CPB.  Swing by for new merchandise and plenty of vinyl records! We'll also have T-shirts for sale including our official Kalapana band merchandise. 
---
• Releases
Sometime in early 2021, Kyoto-based musician and producer HALFBY reached out with a new track he'd been working on, entitled "Beach Baby Be Mine". To our surprise, the vocalist was Richard Natto and the song a new, original composition with music by Halfby and lyrics by Natto. We listened over and over to that demo version and fell. in. love. It was hard not to get the catchy riff and verses out of our heads! Then, Halfby asked if Roger would be willing to make a remix. Sure, why not? It's been years since he'd made any music of his own, but the opportunity was...